Catholic Church
Catholic Churches
Roman Catholic Churches
Catholic Parish
Catholic Parishes
Roman Catholic Parishes
Catholic Community
Find a Catholic Church
Locate a Catholic Church
Locate a Parish
Find a Parish
Where is a Catholic Church Near Me?
Where is Nearest Catholic Church?
Closest Catholic Church to My House
List of Catholic Churches
List of Catholic Parishes
Favorite Catholic Churches
Listing of Catholic Churches
Lord's House
House of the Lord
House of God
Mass Times
Lookup Mass Times

Notice: Clicking above link leaves this site
Topic: Catholic Churches
(click links below)
---

For Catholic Churches, Try...
» Locate a Catholic Church / Find Mass Time
» 'Favorite' Catholic Churches
» MCS Directory: Catholic Churches [Sponsored]
» Rome's Lenten Station Churches
» 12 Great Historical Sites to Visit (A MyCatholicSource.com 'Exclusive Article')
» 10 Things You May Not Know About Catholic Churches (A MyCatholicSource.com 'Exclusive Article')

For Other Catholic Information, Try...
» 'Church Talk' Reflections (Altars, Artwork, Kneeling, Music, Reference, Silence, Tabernacle, Etc.)
» Kneeling / Genuflecting (Topic Page)
» Themed 'Catholic Trivia': Inside Churches (Practices / Decorum / Proper Behavior) (My Catholic Source.com 8/12 Newsletter) [Note: Plaintext version]
» Indulgences for Visiting Churches - Try Indulgences
» U.S. Dioceses & Archdioceses
» Latin Mass & Catholic Tradition
» Vatican View Facts: Papacy, Vatican, Rome & More...
» Papal Writings ('Classic Encyclicals')
» Topical Scripture: Church | House of God | Sanctuary | Worship
» Catholic Churches (Crossword)
» Catholic Churches (Word Search)
» Coloring Pages [Church Interior (shaded), Church (outline)]
---
Topic Page: Catholic Churches
---
Looking For Something Else?
Click Link Below For...
Guide To My Catholic Source.com
Please Help!
---
MyCatholicSource.com Presents...
CATHOLIC CONTROVERSY SERIES
THE TRADITIONAL LATIN ('TRIDENTINE') MASS VS. THE NEW (NOVUS ORDO) MASS
Plus Companion Article: "'Tridentine' Vs. Novus Ordo: Some Pictorial Comparisons"
MyCatholicSource.com Article Reprints
NOW AVAILABLE IN PAPERBACK & E-BOOK FORMATS!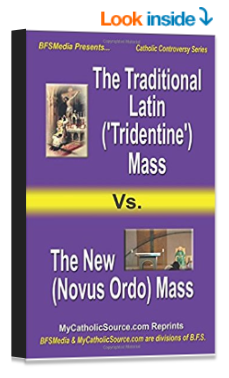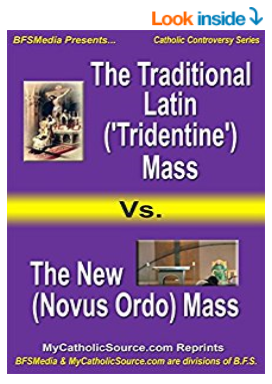 Don't miss this handy comparison between the Traditional Latin 'Tridentine' Mass (TLM) & the New 'Novus Ordo' (NO) Mass (introduced in the 1960's).
These MyCatholicSource.com article reprints contain...
* Brief comparisons of more than 400 points contrasting the TLM & NO
* More than a dozen pictorial comparisons of TLM & NO externals
* Well over 50 links for more information
Includes...
* Brief Comparison of the Old & New Rites of Mass (overview)
* The Desire for the Traditional Mass - a Mere 'Preference'?
* Comparisons Between the Traditional Latin ('Tridentine') Mass vs. the New (Novus Ordo) Mass (400+ individual comparisons)
* Some Further Questions to Consider
* 'Tridentine' Vs. Novus Ordo: Some Pictorial Comparisons
+ + +
"I am convinced that the crisis in the Church that we are experiencing today is to a large extent due to the disintegration of the liturgy" (Cardinal Ratzinger, the future Pope Benedict XVI)
+ + +
Whether you're already attached to the Traditional Latin Mass, or whether you attend the Novus Ordo Mass, you won't want to miss this 'informative & handy' reference publication.
For more information, click links above or visit MyCatholicSource.com/Media
---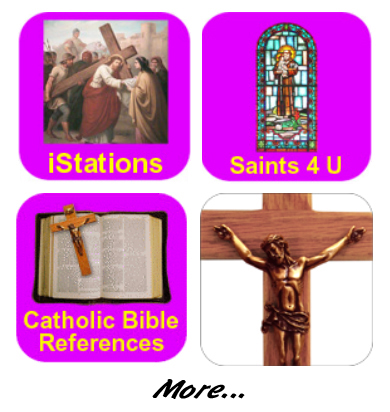 ---
Referral/Incentive Program - Shop At Other Sites To Support This Site!
Note: For pricing, availability, shipping, product & seller info. click links below

Marian Shrines of the United States: A Pilgrim's Travel Guide [Book] (Click to buy & for more info.)

The Liguori Guide to Catholic U.S.A: A Treasury of Churches, Schools, Monuments, Shrines, and Monasteries [Book] (Click to buy & for more info.)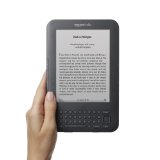 Kindle (Click to buy & for more info.)

GPS Navigator (Click to buy & for more info.)
Thousands More Items To Choose From! - Click Here To Shop By Category
---
---
** Page may contain third party advertisement(s) in any location. We are not responsible for content. Not an endorsement.
Important Notice: We make no guarantees regarding any item herein. Inclusion of any item herein does not imply endorsement. Clicking on a third party link leaves our site. We are not responsible for any third party site / product / service / content / etc. Third parties may not be Catholic. All use of this site is at your own risk. By using this site you indicate agreement to all terms. For terms information, click here.
MyCatholicSource.com ™, MyCatholicSource.org ™, CatholicCommunityCenter.com ™, CatholicCommunityCenter.org ™, BFSMedia ™, BFSApps ™, and other indicated & related items are trademarks of B.F.S.
MyCatholicSource.com, BFSApps, and BFSMedia are divisions of B.F.S.
Copyright © 2010-2021, B.F.S. All rights reserved.
Top | My Catholic Source.com Home | Help | Search | Commercial Sections | Provide Feedback About Topic Pages | Terms of Use