Home | Problem With Link? Click Here
Third Party Tools
Consider Supporting This Site Using These Third Party Tools...*
Important Notice: We make no guarantee regarding any item herein. By using this site you indicate agreement to all terms. For terms information, click here
---
Look for buttons such as the following throughout this site to 'Tweet' links to various pages on this site or to 'Tweet' the site in general...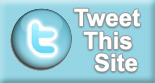 (Note: Above images are for display purposes only - for functional buttons, refer to left border and elsewhere on this site)
Note Re: "Tiny URLs"
Please note that we may not use "tiny URLs" for the following reasons...
* We cannot be certain that such links will remain valid indefinitely
* We do not have control over "tiny URLs" - third party redirected URLs may be compromised and send visitors to other sites or pages
* Full URLs improve name recognition for this site
* 'Tweet this page' URLs may be well under maximum allowable characters (therefore, shortened URLs may be unnecessary)
Note Re: Twitter Account
Use of Twitter may require an account with a third party. We do not recommend or endorse any third party.
Is there a Twitter account for MyCatholicSource.com?
No. Please note that we do *not* have an official Twitter account.
Note Re: Page For Tweet
Please note that the image might indicate what item may be tweeted [e.g. 'Tweet This Page' may refer to the current page, whereas 'Tweet This Site' may refer to the home page (including guide.htm page)]. If the 'Tweet' image does not contain text, try hovering over it for more information.
REMINDER: Clicking a 'Tweet' link leaves our site. We cannot be responsible for content on other sites. Use at your own risk.
---
Check Back Frequently For More Tools!
For More No-Cost & Low-Cost Ways To Support This Site, Please Click Here
Thank You For Your Support!
---
* We make no guarantees regarding any third party tool (e.g. service). We make no guarantee concerning links / images / text / coding / etc. which may appear on our site in connection with any third party tool (including functionality of any item). Tools may or may not be "free" to users. Links/images for third party tools may appear throughout our site / blog / etc. and may not contain any special notation. Reminder: Linking to a third party tool / placing third party images / text / etc. on our site (even on our own initiative) does not constitute an endorsement of any tool / image / text / site / product / service / provider / content / ad / etc. Clicking an external link(s) leaves our site. Other sites have different terms & privacy policies. Third parties may share information with us in order to administer services. We may also share information with third parties with regard to such services. You agree that we are not responsible for any other site's content / tools / products / services / ads / 'cookies' / pricing / business practices / operating procedures / policies / actions / non-actions / etc. or for any party's use of or sharing of information regarding third party tools. We are not agents of / employees of / etc. any third party. In no event shall we be liable in connection with any visit to or use of any other site whatsoever (including use of third party tools connected with links on our site). By using our site (including clicking a link to a third party site / third party tool), you indicate agreement to all our terms, including those herein.
---
We make no guarantees regarding any item herein. By using this site you indicate agreement to all terms. For terms information, see "Important Notice" above and click here.