Click link below or scroll down to view all:
---
Since Latin is the official language of the Church, knowledge of Latin may enable to you read current and past Church documents without having to rely on translators.

A knowledge of Latin may open up a wealth of classical literature to you.

Knowledge of Latin provides a tie to the past. Even the inscription on the Cross was written in Latin (along with Hebrew and Greek).

"Latin is necessary to fully appreciate our rich Catholic heritage."

Knowledge of Latin allows you to pray and sing in Latin - the same language used by your Catholic ancestors and the saints!

Knowledge of Latin may be beneficial when attending the Traditional Latin Mass (sometimes called "Tridentine" Mass). In this way, you may Mass anywhere in the world in your "native language". [Note: Although it may be beneficial to know Latin, you do not need to know Latin to greatly benefit from this wonderful, reverent Mass.]

Popes, saints, and councils recommend Latin.

Studies have shown a correlation between studying Latin and improved scores on various tests.

Knowledge of Latin may allow you to correspond with prelates and the faithful in other countries (including the Vatican).

When traveling, you will be able to read Latin inscriptions found in holy sites.

And many more benefits may be yours...
Did You Know...?
* The devil hates Latin (click here for more information)
* Jesus also used a "dead language" for worship (click here for more information)
* The Latin language is "beautiful & majestic" and has been praised by popes (click here for more information)
* The Second Vatican Council never called for the elimination of Latin, nor was this desired by the Pope who called the Council (click here for more information)
The use of a single language allows us to pray "in one voice."

The use of Latin protects Church dogma - "Dogma is unchangeable and needs to be expressed in a language not subject to change. A single change in words can imply a change in doctrine."

With a universal language, it is not necessary to have separate Masses for persons of varying nationalities (thereby segregating the congregation and causing disunity).

A single language promotes unity both locally and worldwide. "But amid this variety of languages a primary place must surely be given to that language which had its origins in Latium, and later proved so admirable a means for the spreading of Christianity throughout the West. And since in God's special Providence this language united so many nations together under the authority of the Roman Empire - and that for so many centuries - it also became the rightful language of the Apostolic See. Preserved for posterity, it proved to be a bond of unity for the Christian peoples of Europe." (Pope John XXIII, "Veterum Sapientia", 1962 A.D.)

The use of Latin is a sign of unity and safeguards doctrine: "The use of the Latin language prevailing in a great part of the Church affords at once an imposing sign of unity and an effective safeguard against the corruption of true doctrine." (Pope Pius XII, "Mediator Dei", 1947 A.D.)

The Latin Language may be considered "immutable". "For the Church, precisely because it embraces all nations and is destined to endure until the end of time...requires a language which is universal, immutable, and non-vernacular." (Pope Pius XI, "Officiorum Omnium", 1922 A.D.)

The use of a universal language spares the Church the trouble and expense of creating and constantly updating a multitude (hundreds and hundreds) of translations into the vernacular. Note: Experience since the 1960's shows that this is an expensive and daunting task, which has been plagued with errors (even serious ones). Each translation may require at least one commission and may go through a long approval process. Each new translation risks confusion, disunity, error, etc. Each new translation may bring with it a high cost (including high fees for experts). With so many languages and translations, it also becomes difficult even to get them approved, possibly leading to the use of unapproved translations. Further, translations into "living languages" tend to become obsolete as time goes by.

The Latin language is majestic and concise: "Of its very nature Latin is most suitable for promoting every form of culture among peoples. It gives rise to no jealousies. It does not favor any one nation, but presents itself with equal impartiality to all and is equally acceptable to all. Nor must we overlook the characteristic nobility of Latin's formal structure. Its 'concise, varied and harmonious style, full of majesty and dignity' makes for singular clarity and impressiveness of expression." (Pope John XXIII, "Veterum Sapientia", 1962 A.D.)

"It is fitting that Christ be praised universally by a united tongue."

It is fitting that a universal Church use a universal language. "Since 'every Church must assemble around the Roman Church,' and since the Supreme Pontiffs have 'true episcopal power, ordinary and immediate, over each and every Church and each and every Pastor, as well as over the faithful' of every rite and language, it seems particularly desirable that the instrument of mutual communication be uniform and universal, especially between the Apostolic See and the Churches which use the same Latin rite. When, therefore, the Roman Pontiffs wish to instruct the Catholic world, or when the Congregations of the Roman Curia handle matters or draw up decrees which concern the whole body of the faithful, they invariably make use of Latin, for this is a maternal voice acceptable to countless nations." (Pope John XXIII, "Veterum Sapientia", 1962 A.D.)

The Church is unchangeable and it is fitting for her to use a language that is also "unchangeable". Note that when certain words in a language change, this tends to cause division.

The worldwide use of Latin gives us a universal bond: "In addition, the Latin language 'can be called truly catholic.' It has been consecrated through constant use by the Apostolic See, the mother and teacher of all Churches, and must be esteemed 'a treasure...of incomparable worth.' It is a general passport to the proper understanding of the Christian writers of antiquity and the documents of the Church's teaching. It is also a most effective bond, binding the Church of today with that of the past and of the future in wonderful continuity." (Pope John XXIII, "Veterum Sapientia", 1962 A.D.)

When vernacular languages are used instead of a universal language, the Church hierarchy tends to lose control.

The use of Latin protects against heresy (note that vernacular languages are subject to frequent changes of meaning).

A universal language saves time and prevents people from being left out (e.g. rather than forcing the Pope to address a dozen people in their native languages, he can simply address them in a universal language - and this way no one is left out).

With a universal language, visiting prelates can say Mass in any parish with little difficulty.

It makes sense that our priests should have to learn only one language rather than many.

The use of Latin "ties us together in a common culture" and unites us with those who have gone before us: "It is without doubt elevating and inspiring to offer [the] sacrifice [of the Mass] and pray in the very language and in the very words, whose forcible yet sweet tones once resounded in the mouths of the primitive Christians and our forefathers in the dark depths of the Catacombs, in the golden areas of the ancient basilicas, and in the sumptuous cathedrals of the Middle Ages. In the Latin language of divine worship innumerable saints, bishops and priests of all times have offered [the] sacrifice [of the Mass], prayed, and sung... Should not this ancient Latin language of divine service, so venerable and hallowed in its origin and use, be extremely dear and precious to us, so that we would not for any price give it up or be deprived of it at the celebration of Holy Mass?" (Gihr)

It is fitting that Almighty God be worshipped in a majestic language. "Since the Latin language has been withdrawn from daily life, from the ordinary intercourse of mankind, since it is not heard on the street or in the market-place, it possesses in the eyes of the faithful a holy, venerable, mystic character... The celebration of this mystic Sacrifice [of the Mass] fittingly calls for a language elevated, majestic, dignified and consecrated; religious sentiment demands this" (Gihr). As one well-known Catholic convert has said, "The vernacular has robbed the Mass of its majesty and mystery." (Brown)

The use of a universal language allows us, the members of a universal Church, to speak with one another ("without a common tongue, we cannot all speak to each other").

Without a universal language, even the hierarchy of the Church will be divided and unable to talk to each other.

The use of Latin is a sign of historical continuity in the Church: "The use of the Latin Language is, not metaphysically but historically, connatural to the Catholic Church, and is closely connected even in the poplar mind with things ecclesiastical. It also constitutes an important instrument and sign of historical continuity in the Church." (Amerio)

When Latin is used in the liturgy, the faithful can feel at home in every Catholic church in the world: "As it is, the Latin unites the Western Church together in one Catholic body with a union which is that of a family or a household. Every Catholic is at home in every Catholic church of the world. Moreover, the Latin keeps the whole Church in union with the See of Rome, the source and principle of Catholic unity." (Bishop Hedley)

"The use of the Latin language in the liturgy contributes to a sacred atmosphere and safeguards the purity of the doctrine by preventing heterodox translations."

The worldwide use of Latin the Church was an impressive sign to those outside the Church. "It used to be a tribute to the Church that all her children spoke the same language."

Since the Church has "gathered all nations", it is proper that she should make use of a language that is universal and not tied to one particular nation. "In her bosom we behold how the Holy Ghost has 'gathered all the nations from out of the babel of tongues into the unity of faith.' Being formed of 'all nations and tribes and peoples and tongues' she constitutes but one family of God, one kingdom of Christ, a kingdom not of this world, but exalted above every nation of the earth. Therefore, it is proper that the Church, when celebrating divine worship, when offering the divine sacrifice [of the Mass], should make use not of the language of some one single country or nation, but of a language that is universal, consecrated and sanctified. Thus, at the altar is a figure of the heavenly Jerusalem, where all the angels and saints in unison sing their 'Holy, holy, holy' and Alleluia." (Gihr) As one well-known Catholic convert has said, "The existence of a common liturgical language of some kind is a sign of the Church's mission to reverse the curse of Babel and to create a body of unity between the peoples." (Dawson) Remember also that "The confusion of languages at Babylon was the expression of God's anger." (Fr. Groenings)

The Latin language lifts us up: "One virtue of Latin, perhaps the least, is that it makes no attempt to get everybody talking: it is the language of Holy Church, of God's priest, not 'my' language. And it is a language imposed by the Mystery itself, the language of Pontius Pilate and of those who being his contemporaries crucified the Incarnate Lord as our agents, the language of the penitent Gentiles. It lifts us out of our complacent English suburb and our self-sufficient century into that universal moment in which man first acknowledged the divine Savior, the Son of the Living God. The vernacular reverses the procedure. The whole change has been made in concession to ourselves. The vernacular is the language of our private prayers, the grammar of our private life. It accompanies an extensive and potentially disastrous change of mind" (Mr. Gregory, as quoted by Davies)

The Latin language is especially useful for education. "In accordance with numerous previous instructions, the major sacred sciences shall be taught in Latin, which, as we know from many centuries of use, 'must be considered most suitable for explaining with the utmost facility and clarity the most difficult and profound ideas and concepts.' For apart from the fact that it has long since been enriched with a vocabulary of appropriate and unequivocal terms, best calculated to safeguard the integrity of the Catholic faith, it also serves in no slight measure to prune away useless verbiage. Hence professors of these sciences in universities or seminaries are required to speak Latin and to make use of textbooks written in Latin. If ignorance of Latin makes it difficult for some to obey these instructions, they shall gradually be replaced by professors who are suited to this task." (Pope John XXIII, "Veterum Sapientia", 1962 A.D.)

Even honest persons outside the Church admit that the use of the Latin language "raises up the mind from everyday interests and into a language of worship." They have even admitted that the use of Latin "shows deep insight into the human mind."

Etc.
Note: Try here for more benefits of using Latin
Latin Language Facts & Pronunciation Tips
Latin Mass & Catholic Tradition: Q & A
The Traditional Latin Mass: A Brief History
The Traditional Latin Mass vs. the Novus Ordo (New) Mass
Status of the Latin 'Tridentine' Mass
How to Find a Latin 'Tridentine' Mass
Basic Latin Prayers & Other Prayers in Latin
---
NOW AVAILABLE!
MyCatholicSource.com Presents...
Coloring Book For Catholics: 50+ Latin Prayers
(Beginning-Intermediate-Advanced)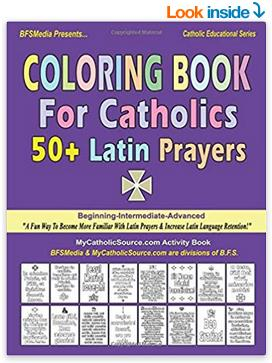 "A Fun Way To Become More Familiar With Latin Prayers & Increase Latin Language Retention!"
+ + +
Designed for Catholics of most any age, this "unique", tradition-minded coloring book contains some of the most popular Catholic prayers in Latin, from aspirations to longer prayers. It's great for Catholic individuals, Catholic families, tradition-minded Catholics, homeschoolers, Latin students, Latin language lovers, seniors, and others...
This 'educational & fun' publication is useful for prayerful relaxation, educational recreation ('learn while you play'), becoming more familiar with Latin prayers & hundreds of Latin words, learning or memorizing Latin prayers, increasing Latin retention, and more...
We hope you will find this book to be both enjoyable, and an instructive tool with respect to Latin, the 'beautiful & majestic language of heaven' and 'official language of the Church' - a language 'consecrated' by the inscription on the Cross that helps to foster a universal bond in prayer with Catholics around the world.
+ + +
"This Catholic coloring book - which provides hours of wholesome & educational recreation - is so much better for your soul than television!"
+ + +
MyCatholicSource.com Activity Book
Paperback Just $7.99
Click Here For More Information & To Purchase
Notice: Prices are subject to change without notice and do not include any applicable taxes.
---
By using this site you indicate agreement to all terms. For terms information, see "Important Notice" above and click here.