| | | |
| --- | --- | --- |
| The Rosary in Latin | "The use of the Latin language prevailing in a great part of the Church affords at once an imposing sign of unity and an effective safeguard against the corruption of true doctrine." (Pope Pius XII) | |
---
Click link below or scroll down to view all:
---
"In addition, the Latin language 'can be called truly catholic.' It has been consecrated through constant use by the Apostolic See, the mother and teacher of all Churches, and must be esteemed 'a treasure...of incomparable worth.' It is...a most effective bond, binding the Church of today with that of the past and of the future in wonderful continuity." (Pope John XXIII, "Veterum Sapientia", 1962 A.D.)
Many English-speaking Catholics find that praying the Rosary in Latin brings many benefits. This majestic language is the official Language of the Church. By praying in Latin, you express your unity with the Roman Catholic Church. Catholics who learn to pray the Rosary in Latin ("the language of the angels") can go anywhere and pray the Rosary with their follow Catholics "in one voice", without being affected by language barriers. Praying in Latin also links Catholics to the past; your Catholic ancestors and the saints prayed in Latin! Also, Popes, Saints, and councils recommend the use of Latin! Latin helps uplift your mind to God, and you may even find that praying in Latin helps you to better focus on the mysteries of the Rosary and avoid distractions. Some consider learning and praying the Rosary prayers in Latin a special act for the glory of God. You should note that it is not very difficult to learn the small amount of Latin needed to pray the Rosary in Latin. (Click here for Latin prayers; click here for more benefits of Latin)
Catholics should be aware that the enemies of the Church have always hated our use of the Latin language and have tried to discourage its use. As Dom Gueranger has stated, "Hatred for the Latin language is inborn in the heart of all the enemies of Rome. They recognize it as the bond of Catholics throughout the universe, as the arsenal of orthodoxy against the subtleties of the sectarian spirit. They consider it the most efficient weapon of the papacy." Don't let your enemies discourage you from praying in Latin and teaching it to your children!
All Are Called to Preserve the Rich Traditions of Our Glorious Faith!
Also See...
Latin Mass & Catholic Tradition
Latin Mass & Catholic Tradition (Reflections)
"And We also, impelled by the weightiest of reasons...are fully determined to restore this [Latin] language to its position of honor, and to do all We can to promote its study and use. The employment of Latin has recently been contested in many quarters, and many are asking what the mind of the Apostolic See is in this matter. We have therefore decided to issue the timely directives... so as to ensure that the ancient and uninterrupted use of Latin be maintained and, where necessary, restored." (Pope John XXIII, "Veterum Sapientia", 1962 A.D.)
---
To pray the Rosary in Latin, simply follow the same instructions for praying the Rosary in English (click here), but substitute the Latin prayers for the English versions (you may also announce the mysteries in Latin). For your convenience, the most common rosary prayers in Latin appear below. For other prayers in Latin, click here. Note that if you need assistance with pronunciation, try the Latin Mass & Catholic Tradition section of this site. For additional aids to praying in Latin, try the Commercial Sections of this site or the Catholic Web Links.
Please Note: Translation / capitalization / punctuation / etc. may vary. Special characters / symbols / accents may be omitted.
The Sign of the Cross in Latin
In Nomine Patris, et Filii, et Spiritus Sancti. Amen.
The Apostles' Creed in Latin (Credo)
Credo in Deum, Patrem omnipotentem, Creatorem caeli et terrae. Et in Jesum Christum, Filium ejus unicum, Dominum nostrum: qui conceptus est de Spiritu Sancto, natus ex Maria Virgine, passus sub Pontio Pilato, crucifixus, mortuus, et sepultus: descendit ad inferos; tertia die resurrexit a mortuis; ascendit ad cælos, sedet ad dexteram Dei Patris omnipotentis: inde venturus est judicare vivos et mortuos. Credo in Spiritum Sanctum, sanctam Ecclesiam catholicam, Sanctorum communionem, remissionem peccatorum, carnis resurrectionem, vitam æternam. Amen.
The Our Father in Latin (Pater Noster) [Listen to Recording]
Pater Noster, qui es in cælis, sanctificetur nomen tuum. Adveniat regnum tuum. Fiat voluntas tua, sicut in cælo et in terra. Panem nostrum quotidianum da nobis hodie. Et dimitte nobis debita nostra, sicut et nos dimittimus debitoribus nostris. Et ne nos inducas in tentationem, sed libera nos a malo. Amen.
The Hail Mary in Latin (Ave Maria)
Ave Maria, gratia plena, Dominus tecum. Benedicta tu in mulieribus, et benedictus fructus ventris tui, Jesus. Sancta Maria, Mater Dei, ora pro nobis peccatoribus, nunc, et in hora mortis nostræ. Amen.
The Glory Be (Doxology) in Latin (Gloria)
Gloria Patri, et Filio, et Spiritui Sancto. Sicut erat in principio, et nunc, et semper, et in sæcula sæculorum. Amen.
The Fatima Prayer in Latin (Mi Jesu)
Mi Jesu, indulge peccata nostra, conserva nos ab igne inferni, duc omnes ad cœli gloriam, præcipue tua misericordia egentes.
Source: Priestly Fraternity of St. Peter
The Hail Holy Queen in Latin (Salve Regina)
Salve Regina, Mater misericordiæ: vita, dulcedo, et spes nostra salve. Ad te clamamus, exsules filii Hevæ. Ad te suspiramus gementes et flentes in hac lacrimarum valle. Eia ergo, Advocata nostra, illos tuos misericordes oculos ad nos converte. Et Jesum benedictum fructum ventris tui, nobis post hoc exsilium ostende. O clemens, O pia, O dulcis Virgo Maria.
V. Ora pro nobis, sancta Dei Genetrix.
R. Ut digni efficiamur promissionibus Christi.
The "O God..." Prayer (10/7 Collect) in Latin
Deus, cujus Unigenitus per vitam, mortem et resurrectionem suam nobis salutis aeternae praemia comparavit: concede, quaesumus; ut, haec mysteria sacratissimo beatae Mariae Virginis Rosario recolentes, et imitemur quod continent, et quod promittunt, assequamur. Per eumdem Dominum.
Source: 10/7 Collect, Missal
Also See: Latin Mass & Catholic Tradition
Want Help Learning & Memorizing Rosary Prayers in Latin? Try Here For 50+ Latin Prayers Coloring Book Which Contains Each Of The Above Prayers In Latin - "A Fun Way To Become More Familiar With Latin Prayers & Increase Latin Language Retention!"
---
NOW AVAILABLE!
MyCatholicSource.com Presents...
Coloring Book For Catholics: 50+ Latin Prayers
(Beginning-Intermediate-Advanced)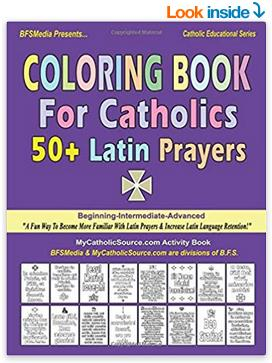 "A Fun Way To Become More Familiar With Latin Prayers & Increase Latin Language Retention!"
+ + +
Designed for Catholics of most any age, this "unique", tradition-minded coloring book contains some of the most popular Catholic prayers in Latin, from aspirations to longer prayers. It's great for Catholic individuals, Catholic families, tradition-minded Catholics, homeschoolers, Latin students, Latin language lovers, seniors, and others...
This 'educational & fun' publication is useful for prayerful relaxation, educational recreation ('learn while you play'), becoming more familiar with Latin prayers & hundreds of Latin words, learning or memorizing Latin prayers, increasing Latin retention, and more...
We hope you will find this book to be both enjoyable, and an instructive tool with respect to Latin, the 'beautiful & majestic language of heaven' and 'official language of the Church' - a language 'consecrated' by the inscription on the Cross that helps to foster a universal bond in prayer with Catholics around the world.
+ + +
"This Catholic coloring book - which provides hours of wholesome & educational recreation - is so much better for your soul than television!"
+ + +
MyCatholicSource.com Activity Book
Paperback Just $7.99
Click Here For More Information & To Purchase
Notice: Prices are subject to change without notice and do not include any applicable taxes.
---
By using this site you indicate agreement to all terms. For terms information, click here.