Click Link Below to View or Search:
View Patron Saints Index:

Search Patron Saints Index:

Were you referred here by a search page?

Please use links at left to locate patron saints
Related Links...
Patron Saints / Priests & Vocations
User-Submitted Article: Patron Saint Information (Q & A)
[Incl.: Who is my patron saint?; Do all saints have an assigned patronage?; Does every cause, disease, activity, hobby, etc. have a patron saint?; Who is the patron saint of ...?; How do I find patron saints on this site?; Is every patron saint listed in your index?; What are some tips to help me find a patron saint in your index?; More...]
---
Saints4U

For the iPad®, iPhone®, and iPod touch® ~ Presented by My Catholic Source.com

For Android Version, Click Here
"A Treasury of Saint Names, Patrons & Feasts!"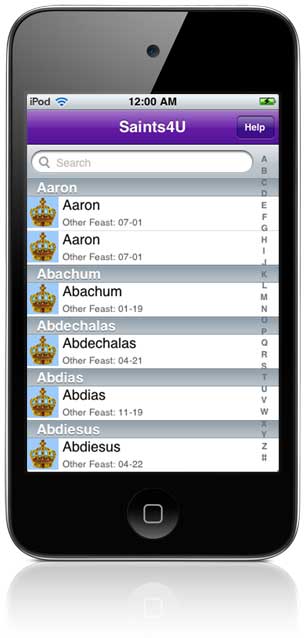 With over 6,400 listings, including 1,000+ patronages, it's easy to find just the right patron saint, baby name or confirmation name. Search for male or female saint names, feasts falling on particular days or months, patronages, liturgical feasts, and more...
Features Include:
* Listings for: patron saints, liturgical feasts (both traditional & new calendars), other feasts
* Contains 6,400+ entries!
* Easy, quick, comprehensive search feature - plus handy search filters & shortcuts - allows searching by: name, patronage, gender, month, date, attribute, patronage category (e.g. 'medical', 'occupational'), calendar (traditional or new), etc.
* Convenient index
* Quick, easy-to-use interface
* In-app e-mail - easily share information with others!
* In-app help
* Links for additional resources
+ + +
Great For:
* Naming babies
* Choosing Baptismal name
* Choosing Confirmation name
* Locating patron saints
* Locating feast days
+ + +
Some sample searches that can be performed with Saints4U...
* Enter your birthdate, anniversary, etc. to see what feasts fall on your special days
* Enter 'cancer' for patron saints for cancer sufferers
* Enter 'medical' for patron saints for various medical conditions
* Enter 'Mary' for saints & feast days that include the word 'Mary'
* Enter 'Joseph' for saints & feast days that include the word 'Joseph'
* Enter 'December' for feasts falling in December [includes: liturgical feasts (old & new), and martyrology/other feasts]
* Enter 'bishop' for saints with attribute 'bishop'
* Enter today's date and click liturgical feast button to see what's on today's liturgical calendar
* Etc.
Note: You can also use the filter buttons to limit results to male or female (e.g. female patrons with patronage over difficult marriages, male saints whose feast days fall on a given date or in a given month, etc.)
+ + +


Get it today! (click here to download)
Click Here For More Information / Screenshots

Buy this app to support this site!
---